Employment report send rates on a wild ride
Posted by Mark Goldberg on Monday, February 6, 2023 at 11:32:09 AM
By Mark Goldberg / February 6, 2023
Comment
Interest rates take cues from several places. Regularly scheduled economic data is always a consideration because a stronger economy implies more growth and tighter Fed policy, both of which are bad for rates.
Certain reports carry significantly more weight than others. If put to a vote, the perennial top dog would be The Employment Situation (aka "the jobs report"). Over the years it is responsible for more volume and volatility in rates than any other data. The most recent installment came out this morning and it was a doozy.
The headline number of the jobs report is a tally of new job creation reported by employers: nonfarm payrolls (NFP). That's just a fancy name for "jobs." Today's data reported the new jobs added in January, and there were quite a bit more than expected.
NFP can be fairly volatile. It's not uncommon to see the number deviate from forecasts by more than 100k a few times a year. Those big deviations usually result in big reactions in rates. Forecasts called for just shy of 200k jobs. Today's actual NFP number came in at a staggering 517k, thus edging out March 2022 to stand as the biggest deviation since August 2021.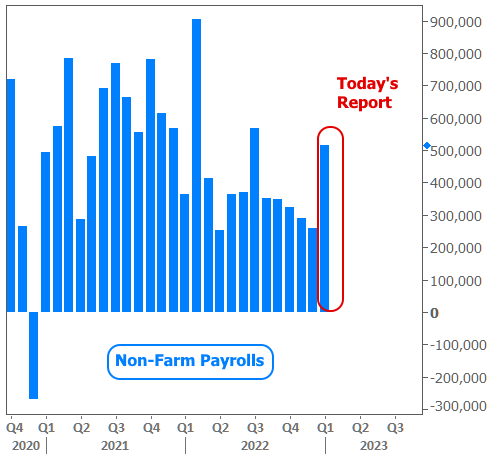 The impressive job gains may partially be due to difficulties in accurately adjusting for new seasonal patterns that have emerged since the pandemic. Even without seasonal adjustments, the economy has added an average of over 400k jobs per month in the past year and the employment rate has reached its lowest level since the 1960s.
In other words, despite some indications of a slowing economy, the most reliable indicator of employment shows a strong job market. This type of robust employment is typically negative for interest rates, and this instance was no exception. However, this development came one day after the lowest interest rates in four months, which helps to keep rate fluctuations under control in the bigger picture.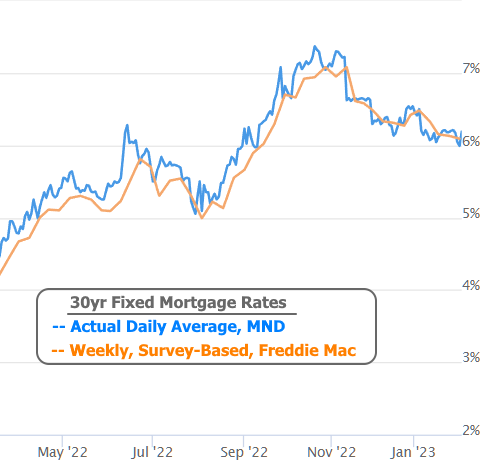 The blue line in the chart exhibits a slight jump at the end, which was caused by the release of the jobs report. To study the week in more detail, we can look at the 10-year Treasury Yields, which closely follow mortgage rates (which change once or twice a day at most).
The chart displays the recent fluctuations in the 10-year yields of both the US and EU. The reason for considering the EU is that the ECB's policy announcement, made one day after the Fed's, resulted in both banks hiking rates as anticipated, but with more rate-friendly comments than expected. As a result, US yields dropped Wednesday afternoon after the Fed, and EU yields fell Thursday morning following the ECB.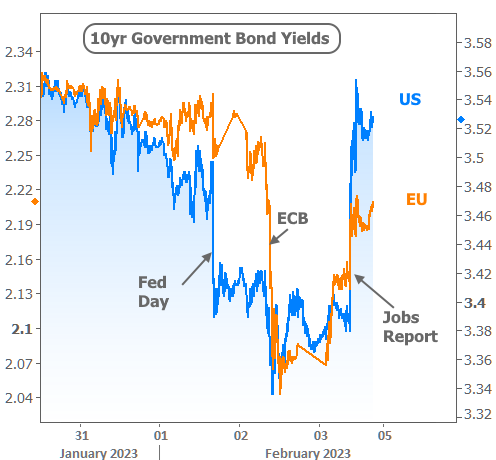 Although short-term fluctuations exist, the overall outlook is more stable compared to late 2022. Since reaching a peak in the fall, rates have trended towards stability and have formed a sideways pattern. If inflation slows down further and the economy experiences weakness, rates are expected to decrease. However, if more data similar to today is released, this trend may be postponed.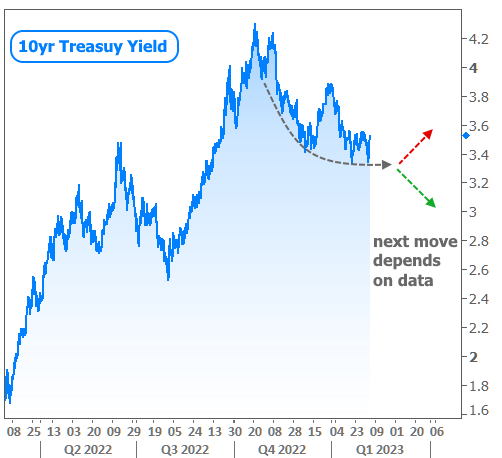 This week, home price indices were updated for both S&P Case Shiller and FHFA. The prices have decreased as predicted on a monthly basis, but still remain higher than the average on an annual basis.